Custom-Built for Success: How The Counter Invests in the Franchisees Who Invest in the Brand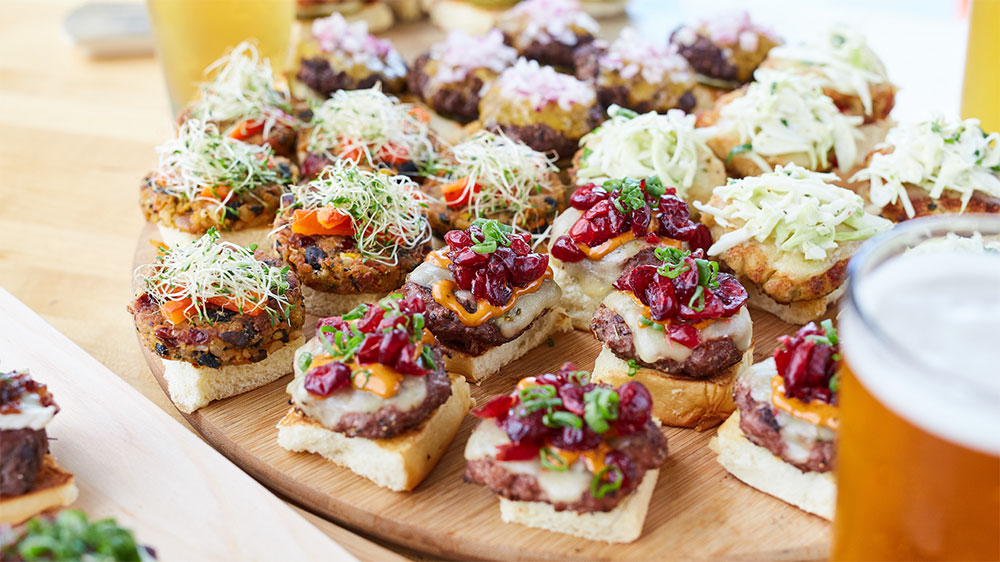 Thanks to a segment-defying full-service gourmet burger concept and leading executive expertise, The Counter serves up an exceptional business opportunity.
When it comes to innovation, healthy options and creativity, a burger concept may not be the first thing that comes to mind—but that's fitting, because California-based full-service restaurant The Counter is so much more.
Founded in Santa Monica in 2003, The Counter quickly rose to prominence as the first custom burger concept that emphasized fresh, quality ingredients and an unprecedented catalog of menu options—as in, over one million possible build-your-own burger combinations. Now a member of the Kahala Brands family, The Counter is poised for growth in California and beyond.
Not only does the brand offer enviable variety in an age in which, according to global management consulting firm McKinsey & Company, customization is a major driver of sales, but The Counter also claims universal appeal thanks to a slew of vegan, paleo, gluten-free and keto options. A final key differentiator? The Counter stands alone as a segment-defying full-service concept: That means a full kitchen, full menu and full liquor bar.
As opposed to a burger concept, "It's more helpful to think of The Counter as a full-service restaurant in terms of buildout and offering," explained Senior Vice President of Franchise Development for The Counter, John Wuycheck.
Given that the promise of the business opportunity is clear, it's natural to next ask just what kind of investment candidates for The Counter ownership should expect.
Prospective franchisees may note that The Counter's 2019 Franchise Disclosure Document (FDD)'s Item 7, "Estimated Initial Investment," is higher than that of 'other' burger concepts. However, this is precisely because The Counter is hardly a burger concept; rather, the gourmet burger brand operates within a full-service buildout supported by the culinary elements and staffing of a sought-after restaurant. Given this, "the initial investment covers all of the necessary elements to position our franchisees for success as the owner-operators of a gourmet full-service restaurant that offers an innovative twist on an American classic," said Wuycheck.
It is also important to note that the total investment covers a variety of one-time expenses that help establish the new franchisee for long-term excellence. These include travel for training, all of the lease deposits for their new location as well as design and architectural fees.
"Everything from napkins to menus," said Wuycheck. "Our initial investment also includes grand opening fees" so that new owner-operators can kick off their genre-defying gourmet burger concept with the buzz it deserves. "These grand opening fees are not recurring and they are in place to establish the foundation necessary for success," Wuycheck said.
Consistent with this focus on franchisee wellness, The Counter also provides owners with firstclass training and support through every step of their entrepreneurial journey.
"Our franchisees can anticipate someone with them through every step of the process; from the moment the franchise is awarded to the kick-off call to introduce our executive team members," said Wuycheck. "Our development team walks [franchisees] through the real estate process, assists in hiring a commercial broker and reviewing build sites so that our owner will have the benefit of our past experience in order to make an informed decision."
The Counter next partners with a construction site team to assess and minimize any additional buildout costs, then offers architectural references as needed. Finally, a grand opening team partners with the new owner to "directly create a robust grand opening plan which combines their local expertise with our brand expertise," Wuycheck said. A training team member stays onsite for the Grand Opening as well as several days thereafter to make sure that everything runs smoothly.
"Our franchisees invest in not only a proven model but excellent operational and marketing support," Wuycheck said. "That's just one of the many ways in which The Counter is different from any other brand out there."
Additionally, franchisees also invest in the Kahala brands' leadership when they sign on with The Counter.
"Our leadership team has years and years of experience in all different facets of the food and restaurant businesses, from full-service dining to QSR," said Wuycheck. "We take those best practices that we've learned from our cumulative experience and pass those on to our franchisees."
Sounds like a business opportunity with bite.
Start-up costs to open a franchise with The Counter range from $746,000 to $2,340,250, with a franchise fee of $35,000. For more information on franchising with The Counter, please visit https://www.thecounterfranchise.com/.
©2019 CB Franchise Systems, LLC. All rights reserved. All other trademarks referenced are property of their respective owners. The information provided herein is for informational purposes only and is not intended as an offer to sell, or the solicitation of an offer to buy, a franchise; nor is it directed to the residents of any particular jurisdiction within the U.S. or elsewhere. The following states currently regulate the offer and sale of franchises: CA, HI, IL, IN, MD, MI, MN, NY, ND, RI, SD, VA, WA, and WI. If you are a resident of one of these states, or of a jurisdiction that has similar requirements, we will not offer you a franchise until we have completed the applicable registration or obtained the exemption from registration, and completed the applicable disclosure requirements. Regardless of what state you reside in, an offering can only be made by a franchise disclosure document.