How an Expanded Happy Hour Menu and Fully Stocked Bar Are Turning The Counter Into a Premier Hangout Destination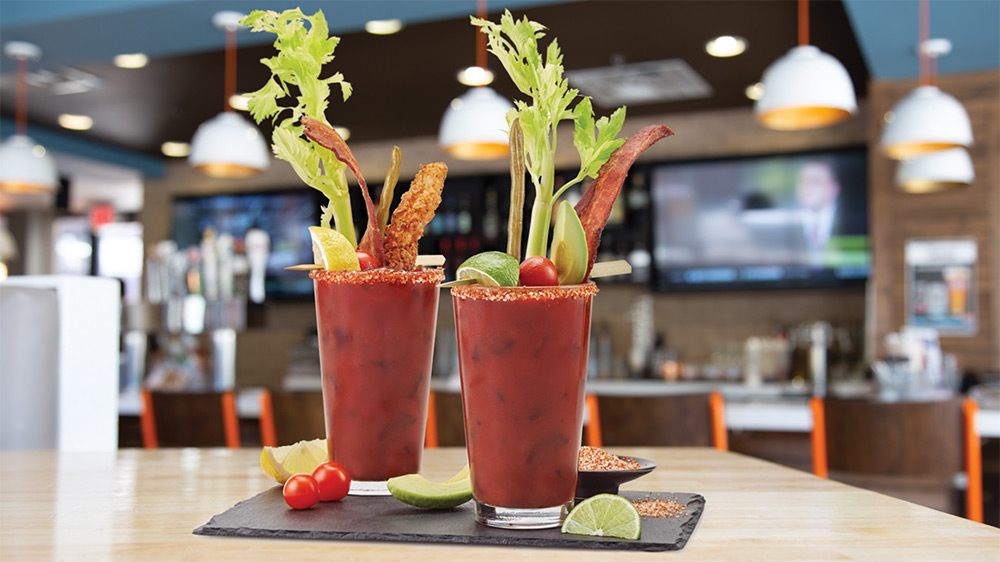 Through a new partnership, The Counter is placing a more prominent emphasis on its fully stocked bar with expanded spirituous beverage options and a fully revamped happy hour menu.
The Counter may be synonymous with great burgers and craft brews, but the build-your-own burger franchise wants it to be known that beer is just the beginning. Unbeknownst to many guests, nearly every one of The Counter's restaurants is stocked with a full bar—and after letting that fun fact lay dormant for most of its young (yet of legal age) life, the brand is putting in the work behind the scenes to give this key differentiator the attention it deserves.
While The Counter's full bar offering may not be new, the strategy behind bringing it center stage is. In early 2019, the brand struck up a partnership with Patrick Henry Creative Promotions, a Houston-based beverage innovation and marketing consultancy, as part of a renewed effort to drive profits for its franchisees system-wide.
"To this point, our full bar was something we didn't really make prominent or advertise, and as we looked at different ways to increase sales for our franchisees, we saw an opportunity with our liquor sales and happy hour food offerings," said April Fogle, Brand Leader and VP of Operations for The Counter. "Our thought process was, we are 'The Counter' and our bar is a focal point in all of our restaurants, so let's explore ways to be more creative and expand that opportunity."
That creativity manifested itself in myriad ways, beginning with the Patrick Henry partnership and carrying through a summer spent testing a number of new cocktail options and quarterly promotions The Counter's team also developed an all-new happy hour menu that was rolled out in late July.
The Counter's beverage-focused innovation has resulted in a slew of exciting new and revamped cocktails, from a line of spiked milkshakes to a new Bloody Mary offering just in time for football season. These creations feature some amazing garnishes—the indulgent All-American is topped with bacon, fried chicken, celery, grape tomato, a pickled green bean and a lemon wedge, while the Spicy Maria includes bacon, avocado, grape tomato, a pickled green bean and a lime wedge. The Counter is also rolling out a new premium margarita and has a number of seasonal beer and wine and food pairings planned for the rest of the year and beyond.
"While we've run beverage-related LTOs in the past, they always featured beer," Fogle said. "We weren't doing as much as we could to promote our spiked shakes and great signature cocktails. We still plan on having fun with our beer and wine pairings with our LTOs. It really was an untapped opportunity for us."
The Counter also made it a priority to better serve its franchisees by targeting the 3 to 6 p.m. daypart with a new happy hour menu. Previously, the brand focused its happy hour discounts on beer and wine only, but saw the chance to drive more traffic for its restaurants during this time of day through an updated food menu and discounted liquor offerings, as well.
"Some of the new food we've added to our happy hour menu is buffalo cauliflower, fried zucchini, chips and guacamole and Brussels sprouts, all of which have performed very well so
far," Fogle said. "We decided to begin offering discounted cocktails such as mules and margaritas during the 3 to 6 p.m. window, as well as call out our LA Rum cocktail as a featured
drink."
Though still young, the revamped happy hour program has been met with ample excitement by both guests and owners, Fogle said. And as far as how The Counter's overall efforts to bring
attention to its full bar offering benefit its franchisees, Fogle was emphatic.
"Where currently our offering is only five or six signature cocktails plus beer and wine, our goal for the near future is to build out a real beverage menu in our restaurants," Fogle said. "What was once an underutilized aspect of our business is now poised to become a better sales driver. While we're never going to be the place that's open until 2 a.m., the awareness we're bringing to our expanded adult beverage offering has the potential to make a big impact on our brand as a whole."
Start-up costs to open a franchise with The Counter range from $746,000 to $2,340,250, with a franchise fee of $35,000. For more information on franchising with The Counter, please visit https://www.thecounterfranchise.com/.
©2019 CB Franchise Systems, LLC. All rights reserved. All other trademarks referenced are property of their respective owners. The information provided herein is for informational
purposes only and is not intended as an offer to sell, or the solicitation of an offer to buy, a franchise; nor is it directed to the residents of any particular jurisdiction within the U.S. or elsewhere. The following states currently regulate the offer and sale of franchises: CA, HI, IL, IN, MD, MI, MN, NY, ND, RI, SD, VA, WA, and WI. If you are a resident of one of these states, or of a jurisdiction that has similar requirements, we will not offer you a franchise until we have completed the applicable registration or obtained the exemption from registration, and completed the applicable disclosure requirements. Regardless of what state you reside in, an offering can only be made by a franchise disclosure document.